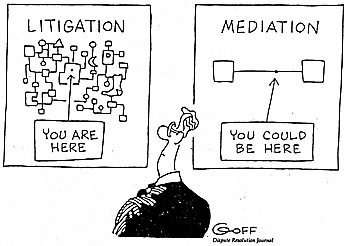 Mediation: Negotiating a More Satisfactory Divorce
We've all heard nightmarish stories of divorce battles that take years—and cost a small fortune—to resolve. The task of negotiating child and spousal support, dividing property and other possessions, and establishing child-custody arrangements can be daunting, especially when the principals are barely speaking to each other. In the worst-case scenario, bitter spouses hire cutthroat lawyers to make rigid (and sometimes outrageous) demands, the two sides dig in, a judge takes over, and animosity reaches a fever pitch. Mediation would seem to offer a more peaceful alternative to the traditional adversarial approach to divorce negotiations. And, indeed, mediated divorces, now widespread, have been found to achieve higher settlement rates than litigation.
See rest of article HERE.